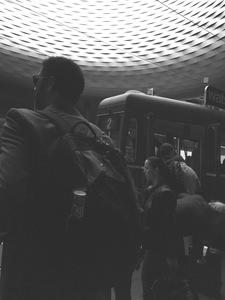 Angel Abreu (American, b.1974. Bronx, NY)
is an artist, writer and educator that studied philosophy, art history and comparative literature at the University of Pennsylvania and New York University. Abreu joined Tim Rollins and Kids of Survival (K.O.S.), an artist collaborative based in the South Bronx in 1986 and has been a steadfast member working on all major works, projects and exhibitions since joining.
Rollins and K.O.S. have exhibited their work, which is based on canonical literature as well as music, at galleries and museums internationally. Their work resides in over 120 permanent museum collections around the world including MOMA, the Philadelphia Museum of Art and Tate Modern. Through his collaboration with K.O.S., Abreu is the youngest, at 14, to have a work acquired by and be listed on the artists' roster of MOMA in New York City.
Abreu continues his work with Tim Rollins and K.O.S. despite the sudden and tragic death of its founder, Tim Rollins in 2017. The project is in the process of reinventing itself and has become Studio K.O.S. under Abreu's leadership. In addition, he continues his own painting practice based on a study of American Pragmatism as well as American literature that he maintains in his Hoboken studio. Abreu is also on faculty in both the BFA Fine Arts and MFA Art Practice departments of the School of Visual Arts in New York City.